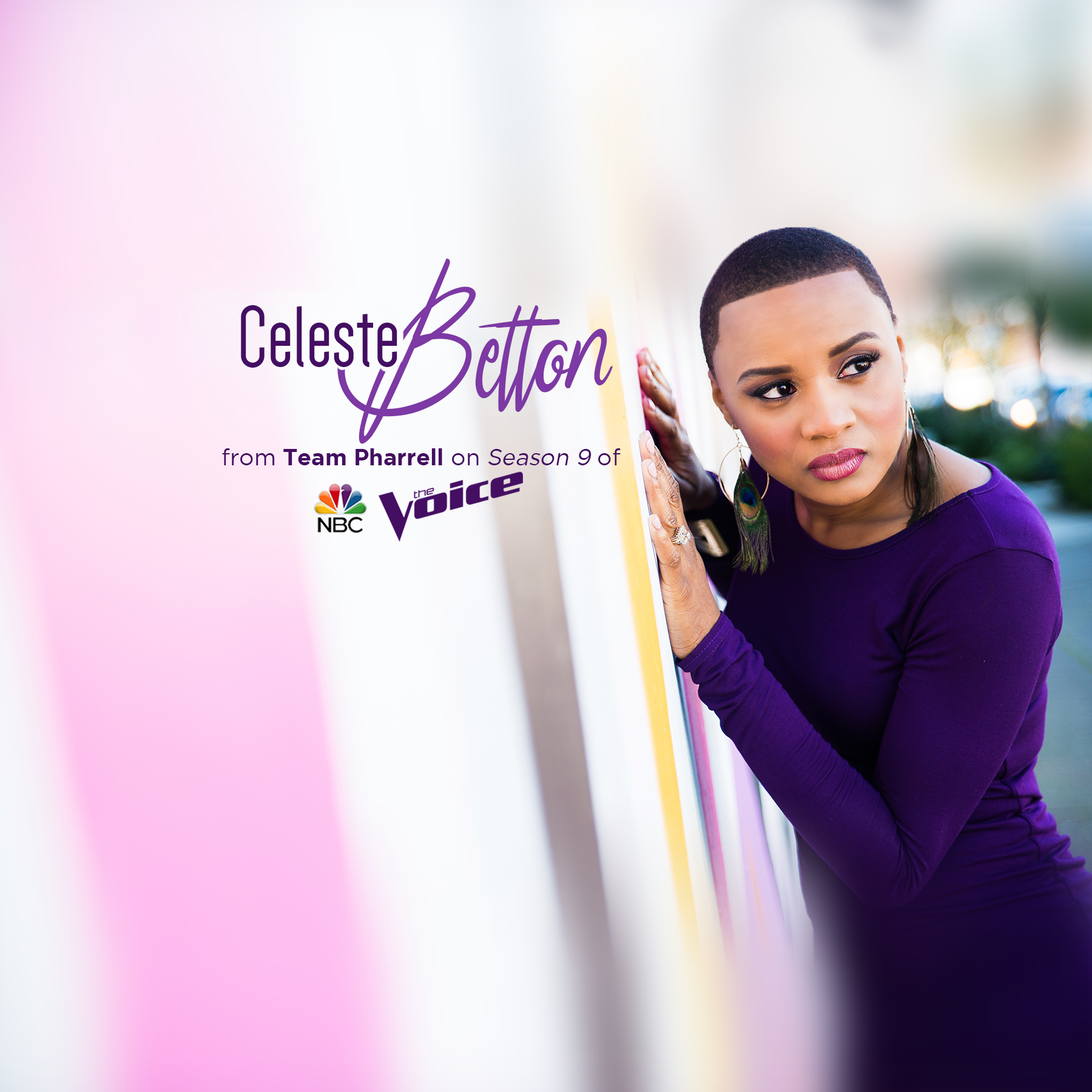 Celeste Betton, a native of Ozark, AL, is a Christian singer/songwriter most recognized for her soulful performances on season 9 of NBC's The Voice. Stemming from a musical family, Celeste began singing at the tender age of 6 under the influence of her father, who would often teach her various harmonies and melodies. Celeste's passion for music moved her to sing in church and school choirs throughout her adolescence and act in local musicals in her community. In fact, she was the first African-American to get cast for a lead role in her high school musical. Her voice alone even allowed her to win an opportunity to sing the National Anthem at the 2004 U.S. Open in New York.
During her collegiate years, singing background for multiple artists began to open more opportunities for her to showcase her talent. Vashawn Mitchell, Grammy nominated gospel artist, asked Celeste to record the lead vocals for "God Cares For You", an encouraging, uplifting record off of Mitchell's 2011 album, "My Songbook." It wasn't long before Celeste began receiving opportunities to showcase her voice nationally and international, and even later began serving as the praise and worship leader/choir director at her church. Before her time on The Voice, Celeste also won 2nd place on Operation Rising Star in Fort Stewart, GA (the military's version of American Idol).
Celeste began her journey on The Voice on Team Pharrell [Williams] after wowing him in her blind audition with her take on Love You I Do from the Dreamgirls Motion Picture soundtrack. Her epic battle round with Mark Hood singing Ain't No Mountain High Enough was confidently coined by judges as "the best battle round The Voice has ever seen." Her time on the show appeared to end after that battle round. However, so moved by her continuous strong, versatile musical abilities, for the 1st time ever in the history of the show, Celeste was brought back and given a 2nd chance to share her gift, and given a spot in the top 20. She came back with a very powerful, uplifting performance of Carrie Underwood's Something In The Water. Judges stated that she had an infectious attitude during her performance (Gwen Stefani), a superb tone (Adam Levine) and a "cirque du soleil" approach with her note choices (Pharrell). So moved by her soul-stirring song selections on The Voice, Kathy Lee and Hoda from Today invited Celeste to come to the show to discuss her experience with The Voice.
Extremely blessed by her experience on The Voice, Celeste is now ready to share her own music with those who are ready to receive what she has to offer.